節氣 Jié Qì - Solar Terms
What are the 24 Solar Terms?
二十四節氣 Èr shí sì
JiéQì
the
Twenty-four Solar Terms
are 24 seasonal sections of the solar year, or, in other words, the 24 divisions of the sun's path along the ecliptic. JiéQì is the beginning marker for each of the twelve solar months, and 中氣 ZhongQi marks the middle of the months, which correlates with the twelve Jupiter modes/ terms.
Initially, temporal time was used to determine the phases of the JieQi just by using the shadow length at a specific time. When the sun's shadow was the shortest, this indicated (夏至 xiazhi "summer has arrived"), and when the shadow was the longest, this indicated (冬至 dongzhi "winter has arrived"). 
In later development, the temporal time utilization was changed to fix segments by the division of the ecliptic of the sun into 24 equal sectors. With this newer method, the year begins with the Yin month, and the
JieQi marks
are the beginning of the
sector in which the sun passes
.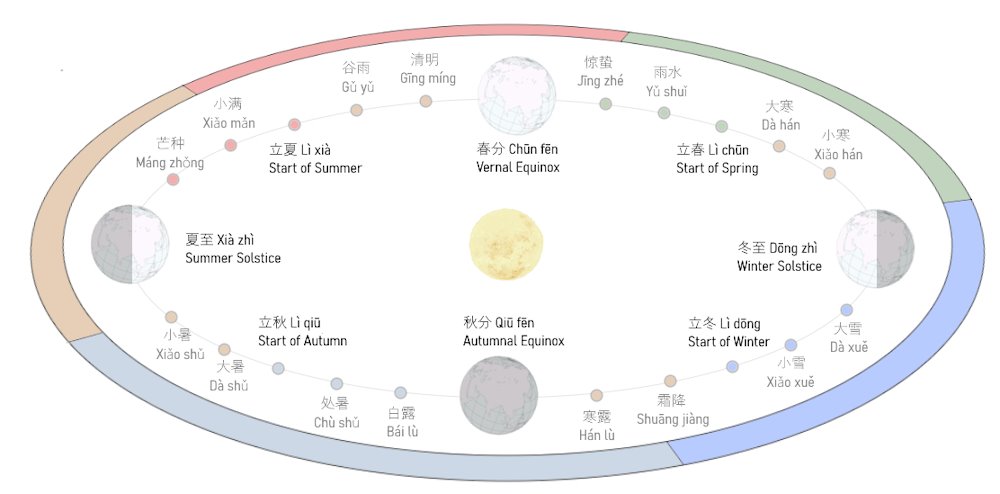 (十二節氣 Shi'er JieQi) The 24 Solar Terms
01 春分 Chūn fēn
Vernal Equinox
Mar 20
乙 Yi
02 清明 Gīng míng
Clear and Bright
Apr 04
辰 Chen
03 谷雨 Gǔ yǔ
Grain Rain
Apr 19
巽 Xun
04 立夏 Lì xià
Start of Summer
May 05
巳 Si
05 小满 Xiǎo mǎn
Small Full (Grain)
May 20
丙 Bing
06 芒种 Máng zhǒng
Grain in Ear
Jun 05
午 Wu
07 夏至 Xià zhì
Summer Solstice
Jun 21
丁 Ding
08 小暑 Xiǎo shǔ
Minor Heat
Jul 06
未 Wei
09 大暑 Dà shǔ
Major Heat
Jul 22
坤 Kun
10 立秋 Lì qiū
Start of Autumn
Aug 07
申 Shen
11 处暑 Chù shǔ
Limit of Heat
Aug 22
庚 Geng
12 白露 Bái lù
White Dew
Sep 07
酉 You
13 秋分 Qiū fēn
Autumnal Equinox
Sep 22
辛 Xin
14 寒露 Hán lù
Cold Dew
Oct 08
戌 Xu
15 霜降 Shuāng jiàng
Frost Descent
Oct 23
乾 Qian
16 立冬 Lì dōng
Start of Winter
Nov 07
亥 Hai
17 小雪 Xiǎo xuě
Minor Snow
Nov 22
壬 Ren
18 大雪 Dà xuě
Major Snow
Dec 07
子 Zi
19 冬至 Dōng zhì
Winter Solstice
Dec 21
癸 Gui
20 小寒 Xiǎo hán
Minor Cold
Jan 06
丑 Chou
21 大寒 Dà hán
Major Cold
Jan 20
艮 Gen
22 立春 Lì chūn
Start of Spring
Feb 04
寅 Yin
23 雨水 Yǔ shuǐ
Rain Water
Feb 19
甲 Jia
24 惊蛰 Jīng zhé
Awakening of Insects
Mar 05
卯 Mao